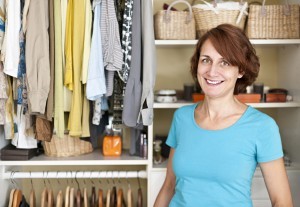 Imagine an area of your home that's particularly cluttered now, and then picture in your mind's eye how nice it would look if it was cleaned and organized. If you take a few seconds to visualize this scenario, it will feel like a breath of fresh air! For many people, a cluttered, disorganized living space or working environment tends to create
mental
clutter -- and that makes it nearly impossible to be at your best. On the other hand, when you create a plan to organize your storage space and get rid of household clutter, you're taking a major step toward enhancing your home
and
the way you feel about it. Although you may have a dozen or more areas that need to be organized, if you create a methodical plan to tackle one small area at a time, then the project is much more achievable and less overwhelming.
The Outcome Is Worth The Effort
If you've ever undertaken a task like this, you know how rewarding it can be to see the results. You'll also enjoy the feeling of pride that accompanies improving the look and feel of your home. When you've transformed chaos into a semblance of order, it can have a positive effect on your attitude and your self esteem. Although taking charge of household clutter is
not
a panacea for stress, it can be one of several improvements that make a big difference.
Where to Begin
You can infuse a feeling of fresh energy into your home by organizing and cleaning the following ten areas:
Closets: Most homes have a ton of them and they're probably in a major state of disarray!
Book shelves: If you have a library of books, then organizing them can dramatically improve the appearance of any room -- from living rooms and family rooms to bedrooms and home offices.
Kitchen cabinets (Check expiration dates while you're organizing.)
Bathroom cabinets and drawers (Refer to note in item #3.)
Junk drawers: Virtually every home has them, and they usually consist of a combination of junk and treasures. In most cases, it's obvious what should be thrown away and what's worth saving.
Garage and tool sheds: These areas are typically in desperate need of cleaning and organizing.
Work bench: If tools, hardware, and supplies are haphazardly piled on top of each other or randomly strewn on your work bench, then finding what you need when you need it becomes increasingly frustrating and time consuming. Taking an hour or so to organize your work bench can make life a lot simpler and more productive.
Spare bedrooms: In many people's homes, that area tends to become a repository for things that either need to be put away, given away, or thrown away.
File cabinets: Being able to find important documents, information, and receipts depends on well organized and clearly labeled files. Ideally, that takes place on an ongoing basis, but if that's not happening, a semi-annual review of your filing system can help keep things in good order.
Basements: Depending on how long you've lived in your house, this might be a project that needs to be spread out over a few days!
Involving members of your family in the cleanup plan can also make it move along faster and feel more like a
team effort,
rather than a solo undertaking. To avoid procrastination, start small and branch out from there. As the ancient Chinese philosopher Lao Tzu once said: "A journey of a thousand miles begins with one step."